Stop Wasting Time in a Dead-End Relationship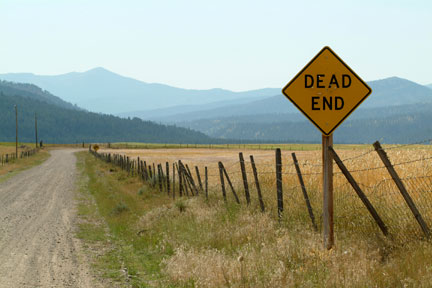 One of the things they teach you in psychotherapy 101 is that it isn't the therapist's role to tell patients whether or not they should end a relationship. After all, isn't it up to you to decide your own course? Well – Today I am going to break that rule.  I've seen too many people wasting too many years suffering and hoping beyond hope that somehow their dead-end relationships will magically get better–All the while I knew full-well the relationship was going to fail anyway.
They say that, "breaking up is hard to do". But the reality is:  Dragging the relationship out will make it that much harder. And just like everyone I've ever worked with, you have been extending the life of a dead-end relationship way past the point of saving it.
You know you're in a dead-end relationship if you:
constantly fight and feel like you are never on the same page
feel undesired
feel constantly criticized, like nothing you do is ever good enough
don't feel like having sexual intimacy anymore
get constant mixed messages about what your partner wants from the relationship
have been dating for 3 years and still aren't sure he's/she's "the one"
have been lying/cheating or your partner has been lying/cheating
are 'engaged' for a year but still have no plan to actually get married
feel like you "love" your partner but just aren't "in-love" with him/her
9 1/2 out of 10 dead-end relationship sufferers are not brave enough to leave unless they have met someone new. You ask yourself, "Why should I leave if I'll have nobody?". You're thinking that it is better to be in an unfulfilling, tortuous relationship than to be alone. What if you never find someone else? What if you end up regretting your decision? I totally get that you're afraid. But I promise that this relationship is going to end anyway and what you'll really regret is all the time you wasted on it once you get the guts to finally call it quits.
I know that there are no real guarantees in life. But I can guarantee that if you stay in a dead-end relationship you will NEVER have serenity. If you leave, you have a hell of a lot more than a fighting chance. I would never do this kind of work if I didn't see people find happiness – And you will. Just turn yourself around and take the other road. It will be more treacherous, but finding real love is worth it. Don't you think?