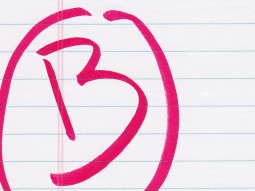 There's way too much emphasis in this society on being the best. You're taught that if you don't strive to be the best at everything you do, then there's just no point in doing it at all. But if everyone can't be the best, what are we saying about people who are just good-enough?
You are brainwashed into thinking that your children will not succeed in life if they do not perform at the top of their class academically. You are injured when your kids are not the best on the team. And you are petrified that they will be left behind by this world if they are not 'exceptional'.
But being the best at stuff actually makes kids anxious. They're anxious that if they don't constantly perform at this extremely high level that they will be doomed. They're anxious about what people will think of them if they don't keep up the status quo. And they're anxious that you will not love them if they don't win.
The truth is that being the best at something does not guarantee success. Being passionate about what you do is the best predictor of success. And having a healthy work-ethic. And being able to have realistic expectations of what you can and cannot accomplish. Trying to get an A just for the sake of saying "I got an A" is a complete waste of time.
The successful person knows how to get from point A to point B in the most efficient and effective way. Sometimes, that means just settling for a B' because it will be good-enough to get you where you are trying to go.
And at the end of the day, isn't it more important that we are fulfilled with our lives? That we have love and serenity? If we do, then we have indeed succeeded.
I hope this blog is good-enough to get you to set your priorities straight.